OVERVIEW
The Department of Physics started functioning in June 2010. The Department aims to become a nationally recognized research and educational unit.
The department offers B.Sc. Physics with Mathematics and Chemistry as complementary subjects. It also offers open courses for students from other departments. Every year the department also provides certificate courses for students
The BSc physics degree course will open up exciting higher studies /employment opportunities for students. The course offers essential knowledge in theoretical physics as well as practical knowledge to the students to apply it in real life state of affairs. BSc physics aspirant need to have basic knowledge in mathematical tools and techniques to pursue various courses in this program. The department is lucky to have a team of dedicated faculty members, who are actively involved in teaching and supporting curricular activities aimed for achieving the desired attributes and program outcomes. At present, there are two faculty members and a lab assistant working in the department. Every year, the department gives one week bridge course to the first year BSc students to cope with the UG program in physics.
Various programs and activities are encouraged for all round development of the students so that they are enriched with greater values of life and develop service–mindedness. Technology plays an important part in education today and hence each department is provided with a LCD projector, and classroom teaching utilizes the multimedia and digital technology. Students are motivated to use these in the academic presentations.
VISION
Acquisition of knowledge to face the challenges of current and future era and developing a scientific temper in the whole society.
MISSION
To equip the student community with fundamental and current trends in the subject of Physics.
To develop research aptitude among students and faculty
To encourage observation and analysis of the natural world through scientific knowledge
To provide the tools and skills to assist all community members to be contributors to society by solving problems and advancing our knowledge of the Universe
FACULTIES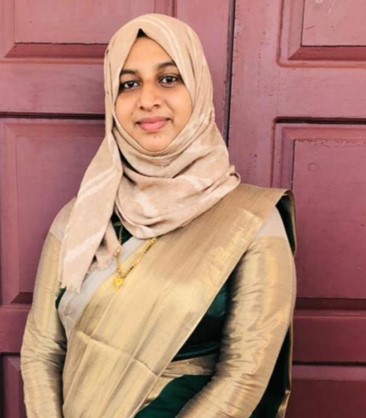 SAFEENA
ASSISTANT PROFESSOR AND HOD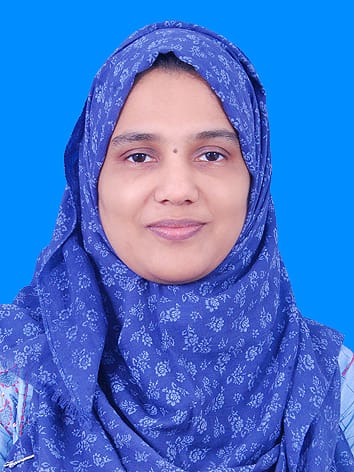 Ms. Ancy SS
ASSISTANT PROFESSOR
FACILITIES
Well-equipped lab
Department Library
ICT enabled classroom
Computer centers
Wi-Fi access
PLACEMENT AND HIGHER STUDY
Higher Studies: MSc &Ph.D. in Physics
Branches of MSc Physics
M. Sc. Material Science
M.Sc. Particle physics
M.Sc. Photonics
M.Sc. Atomic physics & molecular physics
M.Sc. High energy physics
M.Sc. Biophysics
M.Sc. Astrophysics
M.Sc. Cosmology
M.Sc. Nuclear physics
M.Sc. Radiology
M.Sc. Electronics
M.Sc. Electronic instrumentation
M.Sc. Quantum field theory
M.Sc. Nanotechnology

PhD in Physics
Material Physics, Laser Physics, Optoelectronics, Quantum Physics, Quantum Optics, Photonics, Non-Linear optics, Solid state physics, semiconductor physics, superconductivity, quantum computing, Ferroelectrics, Carbon Nano Tubes, Photonic Crystal, Nuclear Physics, Metamaterials, Plasmonic, Solar cells, Atmospheric Physics, Space Physics, Medical Physics, Bio physics etc.
• Other Higher Studies: Radiation Physics (BARC), M. Tech, MCA, MBA